Shoulder Arthritis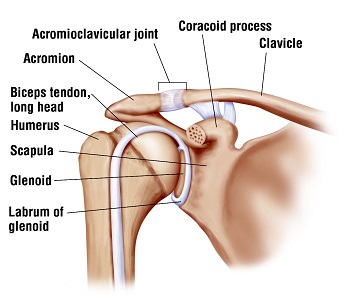 Anatomy: Shoulder arthritis occurs between the glenoid (the socket) and the humerus. (Arthritis also occurs in the A-C joint but is best referred to as A-C joint arthritis not shoulder arthritis).
Injury: Arthritis occurs most commonly from wear and tear over decades of use. Progression is accelerated by heavy use from weight lifting and manual labor in susceptible patients. Sometimes pre-existing painless arthritis may be made painful by injury.
Diagnosis: Patients have pain, often in the back as well as the front, and stiffness. Diagnosis is most accurately made by a special X-ray called the "Grashey" view which we take in our office. It is more accurate for clinically staging arthritis than MRI, although MRI may be helpful in some cases of less severe arthritis.
Treatment
Non Surgical: We have a high rate of success treating patients non-surgically with Stem Cell and PRP treatment and are one of the most experienced Orthopaedic centers in its use. Most patients who see us for a second opinion for surgical shoulder replacement are able to avoid replacement by use of this treatment. Stem Cell/PRP treatment is most effective when applied early in less severe cases, although many patients with severe bone on bone arthritis also have excellent results. We have completed a study being prepared for publication of our PRP/Stem Cell treatment results.
Surgical: Shoulder replacement is necessary in the minority of patients who fail this treatment, although it has a lower success rate than knee or hip replacement and is better avoided where possible. Other surgical treatment besides replacement, such as arthroscopic "clean up" is generally not effective.