Welcome To Advanced Physical Therapy Institute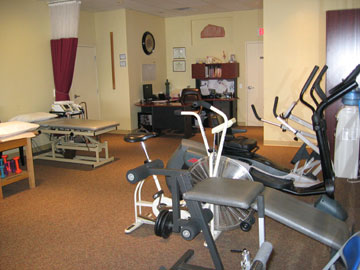 At Illinois Sportsmedicine, Physical Therapy is performed by our expert licensed physical therapist, Angelo Dizon. Unlike many centers, we do not designate therapy to assistants or aides. Appointments are made through our central number: (847) 699-6810, following the prompt to the physical therapy department.
We have several guiding principles and features:
NO PAIN: We are careful not to hurt you during your therapy when you are strengthening your body. This may seem obvious, but it is possible to cause tissue damage with overly aggressive strengthening exercises. We are careful to avoid this. Some temporary discomfort is unavoidable when stretching contracted joints, but we are careful to avoid causing discomfort in other therapy applications.
FITNESS: Our clinic is equipped with a complete gym with resistance and cardio equipment. A key part of our function is to design a custom fitness program for you that will enhance fitness without hurting your joints. Once thus educated you can then perform your workout at a fitness center of your choosing.
ELLIPTICAL: We have designed a custom elliptical program for those with knee problems that allows a high intensity cardio workout with greatly reduced strain on your knees. See our video in this regard. Also read our brochure here.
COLD LASER: Our therapists are skilled at using our high quality Weber class 3b laser to treat musculoskeletal injury. This exciting technology is used on an as needed basis.
STRENGTH TESTING: Unlike many centers we have dynanometers to monitor your strength gains so that you can be sure your therapy is improving your performance.
BODY FAT ANALYSIS: We have high quality body fat equipment to monitor your changes in body fat. It is simple, safe, and easy to use and resembles a simple scale.
EXTENDED HOURS: To accommodate the schedules of our busy patients we see patients until 7:30 during weekdays.
INTEGRATION WITH DR PRODROMOS AND DR HATZ: Because we operate within the medical clinic we are able to constantly exchange information with our doctors. This integrated care is a distinct advantage in continuity of care.
HOW TO USE AN ELLIPTICAL TO PROTECT YOUR KNEES AND GET A GREAT CARDIO AND LEG MUSCLE WORKOUT