Topical ice or cold pads are our preferred methods to relieve pain after surgery or after PRP or stem cell injections: but never directly on the skin.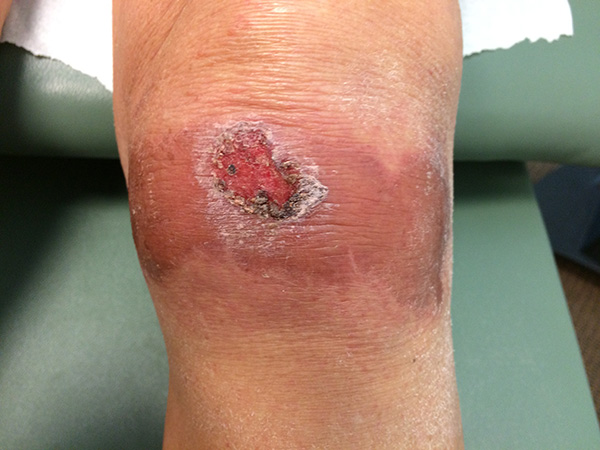 As the accompanying picture shows, when ice is applied directly to the skin a burn can result. This patient injured her knee and applied ice directly to the skin. A mild burn resulted. She then bumped her knee resulting in a superficial skin breakdown. Her skin is healing well but we counsel our patients that ice should always be applied over a cloth. Here are some helpful rules for topical cold application:
Never apply ice or cold directly to the skin.
The cold should always feel soothing. If it feels so cold that it is uncomfortable it should be removed. It may subsequently be re-applied over more padding to decrease the intensity of the cold so that it feels good.
If the skin feels numb the ice should be removed.
The ice may be applied continuously as long as it feels good not bad. We use ice to combat pain not swelling. Swelling is normal after injury or treatment, and unless it is excessive it is part of the normal healing process.
If you do have pain or skin discoloration or injury after ice use, stop it immediately and see your doctor.
Topical cold is our first choice for pain relief. It avoids medication side effects. It is generally very safe. I have seen only three ice burns in all my years of practice, and this is the only one that resulted in skin breakdown (and that was only after the area was bumped). Our second choice for pain relief is generally acetaminophen (Tylenol). We almost never use NSAIDs (motrin, advil, aleve, others – see "NO PILLS NO PAIN"). And we reserve opioids for post-surgical pain, and do not always need them even then.