KT 1000 Arthrometer for Diagnosis of ACL Tears
What it is:
A small device that is strapped to the leg during knee examination in patients in whom an ACL tear is suspected. The examiner pulls on the uninjured knee and the gauge on the KT 1000 shows how many millimeters of motion exist between the tibia and femur. This reading is then compared to the reading for the injured knee.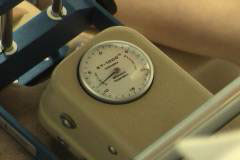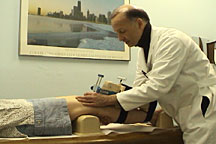 What it shows:
In our experience, if the difference between the normal and the injured knee is more than three millimeters, the ACL is completely torn 100% of the time.
Comfort level:
We have performed many hundreds of these exams and they are painless. The measurements take only about five minutes to perform.
Comparing KT 1000 to MRI:
In a recently completed nine-year study of our ACL reconstructions, the KT 1000 was found to be 100% accurate for the diagnosis of ACL tears. MRI scans, by comparison, were mistaken (false negative) 19% of the time.
Expense:
There is a nominal fee for this test, which should be covered by third party payers.
See These Published Papers for Additional Information:
A Meta-Analysis of the Incidence of Anterior Cruciate Ligament Tears As a Function of Gender, Sport, and a Knee Injury-Reduction Regimen. Arthroscopy. Prodromos, et al, 2007.
Other ACL papers