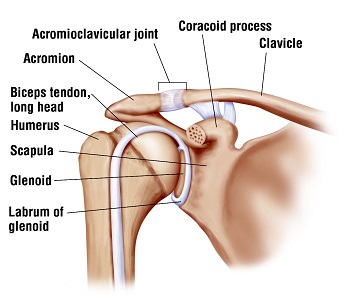 As the above picture shows the long head of the biceps tendon attaches directly into the shoulder joint. The rotator cuff tendons are located very nearby. While it is controversial, many surgeons will cut the biceps tendon if it has damage and then implant it into the top of the humerus or arm bone: a procedure called biceps tenodesis. The rationale is that cutting the biceps eliminates a potential pain generator after surgery. But now a new study shows that there may be a price to be paid in some by doing so.
A paper from July 2017 in the prestigious "Arthroscopy" Journal looked at a large group of patients who had arthroscopicrotator cuff repair.This group was divided into those who also had biceps tenodesis (cutting and reimplanting) compared to those who did have tenodesis at the time of their rotator cuff repair.The results showed a significantly higher rate of reoperation, dislocation, nerve injury and surgical site infection in the patients who had the biceps tenodesis done versus those who did not. It is commonly said during meeting of other shoulder specialists like myself that cutting and reimplanting the biceps, tenodesing it, has no significant drawbacks.This article would argue otherwise.This is not to say that it is necessarily wrong to cut the biceps during rotator cuff repair. Advocates of doing so would argue that in some patients it results in better pain relief. However cutting the biceps without evidence that it is doing some good would not seem to be a good idea.
This paper was particularly gratifying to me because I have never believed in cutting the biceps tendon during rotator cuff repair or as an adjunct to other surgical procedures, such as labral repairs where it is also often cut. And, happily, I have never had to re-operate on a patient due to biceps tendon symptoms later.Thus I have felt confident that this approach is worthwhile, at least in my hands.The criterion for cutting it for surgeons who do so is often the presence of some damage to the tendon. However we do not simply cut other tendons, such as the Achilles or patellar tendons, if they are damaged and I have never felt comfortable doing so with the biceps. No one paper will settle this debate, many excellent surgeons believe in tenodesis, and I believe it is worthwhile in some cases – but perhaps fewer than many have thought.
(I was also asked to be guest editor of an orthopaedic journal edition devoted largely to this point that I will describe in a later post.) While this post may seem technical, I thought it worthwhile to write about it because the subject commonly comes up when patients with shoulder problems discuss their shoulder problem with Orthopaedic Surgeons.