I presented a paper on our use of intra-articular laser treatment to augment PRP injection for arthritic joints at a major medical conference in San Francisco on Jan. 27th. The laser improved results in patients who had no response to an initial injection of PRP. While most patients we treat with PRP do respond, some do not and face joint replacement surgery as their only other option. There is evidence that low level laser (laser that does not produce perceptible heat and has no known side effects) can improve the results of PRP and stem cell treatments.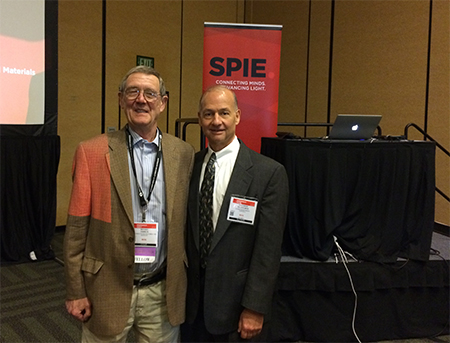 I therefore conducted a clinical trial in which I offered repeat PRP injection along with the use of two needle laser probes (using our state of the art Weber laser) that were inserted into the joint for 30' to see if the addition of laser could turn these PRP non-responders into clinical responders. We used red, near infra-red and blue light wavelengths, each of which produces slightly different effects.
At 6 month follow-up 46% of these patients did respond and were able to avoid surgery and function satisfactorily. I provided both the PRP and laser treatment at no charge to these patients in this study.
Shown in the picture with me is Michael Hamblin PhD., principal investigator at the Wellman Center for Photomedicine at the Massachusetts General Hospital and Harvard medical School (where I did my Orthopaedic fellowship) who was the chairman of the conference.