Anterior Cruciate Ligament Reconstruction Protocol
Phase I – Begins 1 to 3 days post-op
Goals – Reduce pain and swelling, restore normal knee range of motion (0-120 degrees only), familiarity with ambulatory assistive devices and gait (WBAT), and home exercise program for ROM. Strengthening is limited to prone hamstring curls and 90/90 isometric wall pushes.
Phase II – Begins 3 months post-op
Goals – Initiate Elliptical trainer/Norditrack, hamstrings/hip/core strengthening , quadriceps strengthening (closed chain with knee flexed greater than 45 degrees).
Phase III – Begins 5 months post-op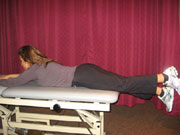 Goals – Initiate bike or cyclic motion, progress quadriceps strengthening into full ROM (no OKC), progress hamstrings, hip, core strengthening, initiate proprioceptive exercises. Running, plyometrics, and sport specific exercises to begin once adequate strength is obtained.
Estimated length of recovery 6-7 months.